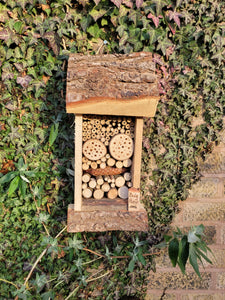 This Bug Hotel is designed to attract beneficial bugs such as solitary bees, lacewings, aphid nymphs and ladybird larvae .  The carcuss is made from reclaimed pine and the it is topped and bottomed with either larch or oak, and then filled with a combination of bamboo cane, common hog weed (non-toxic), elder, buddleia, Hazel and fir-cones.  the cord to hang it with has wire in it so it is durable.
The approximate dimensions of this Bug Hotel are  L42cm W20cm D11cm
Please note the bug hotels are all similar but there will be some differences as each individual piece of timber is different.
Postage cost for this is £7 which will be added to the price on check out.
To find out more about Bug Hotels look in our Information menu and look at Bug Hotel Information or there is a short video Bob talks about Bug Hotels